Freebies Roundup – Return to Mysterious Island – Deluxe Edition and More Free for Limited Time
When it comes to adventure gaming on the iDevice, Jules Verne's Secrets Of The Mysterious Island (TMA Review) and Return To Mysterious Island (TMA Review) are certainly some of the better ones on the App Store today. If you're a fan of the genre, the good news is that Return to Mysterious Island – Deluxe Edition for the iPad is now FREE for the next 24 hours to celebrate its 6th anniversary. The iPad version, unlike its iPhone sibling which was "adapted" to fit the smaller screen, is essentially a direct port of the popular PC game. This captivating adventure (down from $4.99) with hours of gameplay, solid puzzles and great graphics can now be yours for free!
And of course, there are plenty more Freebies in this Roundup, so head on inside and grab whatever that tickles your fancy.
Jules Verne's Return to Mysterious Island – Deluxe Edition
While participating in the famous solo round-the-world sailing expedition – the Jules Verne Trophy – the navigator, Mina, strands on a island without any way to contact the emergency services. Therefore the courageous young woman will only rely on her senses and her ability to recuperate, before trying to escape the island. However, a mysterious shadow hovers over this land, cut off from the world, which does not appear so uninhabited as it seemed at first sight…

Freely adapted from the "Mysterious Island" by Jules Verne, "Return to Mysterious Island" is the sequel to the novel. In the role of Mina, explore the mythical locations of the original work (Granite House, Volcano, Nautilus, etc.) and solve many puzzles hidden in the mysterious island.
Anuman, Return to Mysterious Island, 749 MB – Free
Egypt The Prophecy – Part 2
The story:
Plunge into ancient Egypt and follow Maya, a young magician, who has been ordered by Pharaoh to investigate the strange accidents that have recently occurred at the great obelisk's worksite. Find out what is standing in the way of your sovereign's mission. Evade curses and spells, and allow your people to construct one of the great architectural splendors of antiquity to the god Amon-Ra.

The game:
A point-and-click adventure game using 360° views, similar to Jules Verne's Return to Mysterious Island and Dracula: The Path of the Dragon.
You play the role of a young magician and help her investigate the mysteries of ancient Egypt.
Anuman, Egypt The Prophecy – Part 2, 359 MB – Free
Super Yum Yum: Puzzle Adventures

A fruit monster has run off with your juicy fruit and kidnapped your babies. Help Leon chase after Ms. Tum Tum in this off-the-wall puzzle adventure spanning 4 worlds and 48 brain-tingling levels.

Eat fruit, change your colour, and lick your babies to make them follow you. Remember, more chameleons means more eating power, and that means it's GIANT FRUIT time!
Northcliffe, Super Yum Yum: Puzzle Adventures, 15.5 MB – Free
Cell & Love: The Fun of Fusion
Discover an intriguing evolutionary journery, where pairing cells of different sizes and colours results in an organism that grows as you progress through the game.

Cell & Love is a fresh and unique new puzzler where you have to help a little monster to raise his ultimate evolution stage solving 100 levels, by merging cells with your fingers according to 4 simple rules.

More than eight hours of thinking entertainment. Slickly presented, cool and creative graphics and music. Easy to learn, difficult to master. A new kind of puzzle that you need to play.
Mutant Games, Cell & Love: The Fun of Fusion, 8.7 MB – Free
101 in 1 GameUtilities – 10 Games & 91 Utilities
Welcome to Games Utilities App! GamesUtilitiesApp.com is a one-stop destination where you will be able to get a unique collection of 91 utilities and 10 games. All these utilities apps are related to different fields which will help users of various professions. Entertainment will be fulfilled by exciting games with fun for ultimate players. We have kept our focus to deliver the most effective gathering of downloadable apps and games which are perfect for users of every age!
iTankster.com, 101 in 1 GameUtilities, 64.0 MB – Free
Virble
Help Virlo on his quest for Golden Choobies! A word puzzle game featuring three modes and endless action.

Intructions:
– Tap and drag across letters to create words.
– Once a word is formed, the tiles will turn orange.
– The object is to fill the board with orange tiles.
– Use the red Bomb Choobie to randomly shuffle tiles if you get stuck.
– Use the green Bonus Choobie to turn tiles into bonus tiles to give you extra time.
Candystand.com, Virble, 6.9 MB – Free
Shuzzle
The purpose of the game is to challenge players to match shapes to colors while under the stress of a timer. The timer speeds up the longer you play making it more difficult every second. The objective in Shuzzle, is to match the center shape with one of the six surrounding shapes. One point is rewarded for just a shape match, however, if both the shape and color match then the user is rewarded with ten points.
Appuous Inc., Shuzzle, 20.3 MB – Free
180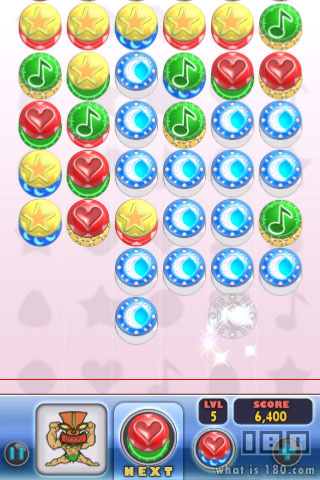 From 2 guys who've worked on some of your favorite games (Tony Hawk's Pro Skater, Might & Magic, Knights of the Old Republic),

180 is a mad flipping match-three drop action puzzle game! Launch coins into three-in-a-rows to clear the board. Play alternate colors by flipping coins 180 degrees at any time. Create incredible combos and be rewarded with HUGE scores!
Headcase Games, 180 (TMA Review), 9.3 MB – Free
Last Line of Defense
LLoD is action 2d shooter which keeps in suspense during 5 breathtaking levels thanks to amazing retina graphics and unpredictable gameplay.

It is a dynamic and thrilling story about the little drone which is the only survivor after the cruel interplanetary war. Its tiny electronic brain doesn't understand that the further rebellion is senseless so the drone keeps defending own base from crafty enemies till the very end. The app is integrated with game center achievements and leaderboards
Piezo, Last Line of Defense, Size: 70.1 MB – Free
PipeRoll
Connect the plug-holes to each other as fast as possible to rotate the pipes into the correct position. There are 100 levels with 1, 2 , 3 or 4 different types of fluid and a lot of trick. Test your brain in this amusing puzzle game!

Features:
– 100 custom-designed levels,
– 4 different types of fluid,
– country and city environments
Navigation-Info, PipeRoll, 12.9 MB – Free

Navigation-Info, PipeRoll HD, 16.5 MB – Free
ArkInvade
After thirteen millennia observing our planet and its inhabitants, they are assembling their forces throughout our solar system to launch an ambitious invasion; their aim to re-establish their dominance over the Earth. They lie await in stasis for the instruction to commence the attack. We cannot allow this to happen. We must strike first whilst they are dormant.

You must pilot the attack pod 'Ragic' and use the proton balls to smash through their defences. Be careful, when you attack their cryogenic modules they will not stay dormant for long…….
Lightworx, ArkInvade, 16.1 MB – Free
Epic Dragon
Arcadia is dying. Are you the one who can defeat the Counsel of Dragons and save your home?

• Awesome 2D art style
• Unique casual RPG game play
• Variety of Beautiful Dragon fights
• Original story-line
• Multiple character saves
Dracosoft, Epic Dragon, Size: 12.0 MB – Free
SOS Penguin!
SOS Penguin!…..

48 Penguins… One Problem…
Can you save them?..
Stefan Mensen, SOS Penguin!, 20.2 MB – Free
ZombieCity
▶ Introduction
Only you are the one survivor in the city that all died.
You have to survive from Zombie who are trying to attack you continuously.
This is a shooting game with one player and survival game from zombie.
The player have to attack, kill and survive finally from zombie, they can be stronger with arms, evolved and attack you continuously.
wisentive, Zombie City, Size: 15.3 MB – Free
KeyPoint
Thanks to Keypoint you can now build, play, share and export presentations on your iPhone or iPod Touch.

Keypoint is the perfect tool to create presentations on the go. You can use one of the 10 high quality themes and 7 different types of animation to create a beautiful presentation in no time. Once you created your presentation you can start adding slides and arrange them as you like. If you are done you can simply publish your presentation online via keypointapp.com, share it with friends or even include it into your personal website or blog!
Bert Timmermans, Keypoint, 4.2 MB – Free